I have been thinking about writing this post for a while. When I started thinking about it, there was a lot more television going on. Now, I suppose,  it is more of a reflection on the highlights of the past six months of television. Now that we have straightened that out, here we go…
Orphan Black – my best new find of 2014 (which is really from 2013.) I missed season one but am now all caught up to season 2.  The most amazing thing about this show is the lead actress who plays at least five cloned versions of herself so well that you forget they are all the same person. Then of course you have mystery and drama and mostly likable characters (including that guy Max Headroom who is not so likable but a cult classic, Sarah's half brother  who is hilarious and you totally want to be friends with, and the hottie from Nashville and Game of Thrones who I would love to be more than friends with.) Definitely worth watching. Go back and catch up.
The second show I added to my list was Penny Dreadful. I can't say you should definitely watch this, but the premise is interesting and if you love creepy, monster stuff like I do, you might like it. It is a mish mosh of characters from Irish and British fiction all together in one story…werewolves, vampires, Frankenstein, Dorian Gray… There was a bit more devil possession going on that I would have liked but there was enough drama to keep me sucked in.
The Walking Dead and Louie were especially awesome this season. It has been so long since The Walking Dead that I can't remember the details, but I remember being back in to it after not loving it so much last season. That Pamela is a piece of work, but I like her for Louie. The flashback to Louie's teenage spiral in to the drugs and how he didn't have the perfect answer to keep his daughter from going down the same path, except a hug. Hugs are awesome. The world could use more hugs.
The Americans had a stellar second season. Being a spy is very complicated. Being a spy in a time of typewriters and land lines is quite a challenge. Being a Russian spy with American children..phew! What will happen to Paige next season? Will she be forced to give up her newly found Christian community to join her parents as a next generation Russian spy?
The Bachelorette – I have given up on pretending I am not going to watch this show.  As ridiculous as it is, I always get sucked in. Every season I wonder..what if I were the Bachelorette? Could I actually pretend to be super excited about all of those dates? Wouldn't it be cool to have wardrobe and makeup 24×7 for three months? Could I really make out with so many different guys in the same week? How did she not know on Day 1 who she would end up with? What the heck would I do for my hometown date? How does she remember what she is going to say at every rose ceremony? Right now I am wondering….Josh or Nick?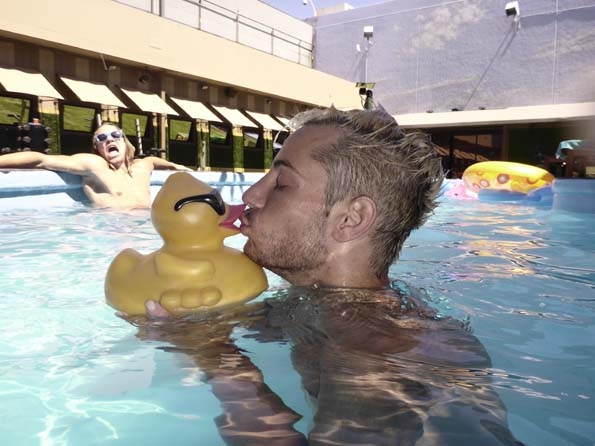 Big Brother – just like the Bachelorette I am once again hooked on this insanity. I am equally fascinated by observing these people's behaviors as I am about the editing decisions made to tell the story. I think my dream job would be to work on this show. I just want to see how it all works! I could do with fewer competitions though. As creative as they can be, they are ridiculously stupid. Clearly I am not the key demographic for this show. Middle America must love these competitions, because they added a third weekly competition this year. Right now, I am rooting for Frankie, the smartest and most entertaining house guest this year (brother of Ariana Grande but this man stands on his own.)
Mad Med was its usual awesome self.  Parenthood tugged at my heartstrings most weeks. This is one of my absolutely favorite shows that I don't list on OK Cupid as a fav because its just not as cool as saying, say, Game of Thrones.
Speaking of Game of Thrones, wouldn't it be fun to see Jamie, Cersie, Tyrion, Arya Stark, Daenerys,Margery, Sansa, Lord Varys, Brienne of Tarth, John Snow, Lord Baelish all in the Big Brother House? Who would be able to build the longest word out of wooden letters shaped like lice (in the Miami Lice competition) that they have to fish through a pool to find? I can say that none of them would have trouble being a "have not" which requires eating an oatmealish food called slop for a week, sleeping in uncomfortable beds, and taking cold showers.
I did not love American Horror Story this season. Jessica Lange was awesome as always but the witch thing just didn't do it for me. That show tends to go just a little bit too far sometimes, even for me. I got sucked in to 24 Live Another Day (because I loved 24), and initially, I was totally in to it..now it is dragging on and I am ready for it to be over, for good.  Scandal was fun as always with lots of twists and turns.  Definitely a must watch.
Finally watching True Detective. I clearly should have watched this instead of 24: Live Another Day, but sometimes, I make stupid entertainment decisions. I am back on track now, and loving it.
I also finally watched The Normal Heart this weekend on HBO (the story of the start of the AIDS epidemic in NYC and the founding of the Gay Men's Health Crisis). Amazing. Watch it if you get the chance.
I had a lot to catch up on. Hopefully you stuck with me. Before I go, I will mention that I just started watching The Leftovers (right up my alley, mysterious, troubled, sad characters, sci fi element to it. If that's your thing set your DVR.). Masters of Sex, Ray Donovan, and The Bridge will be back soon….but I will try to get out of the house this summer. Really, I will.